Raging Rhino is one of these "High Volatility Slots" in that you may not win much so often, but now and again there are very big wins like this example I got a few days ago.
This is a 6 x 4 reel slot with 4096 all-ways (left to right) pay lines.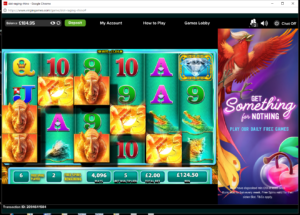 This win was on during the free spins feature which is achieved by getting 3 (or more crystals/diamond symbols).  Getting more than 3 diamond symbols gives more free spins and a higher trigger amount.  If you get 2 diamond symbols during free spins you get an extra 5 spins each time as well!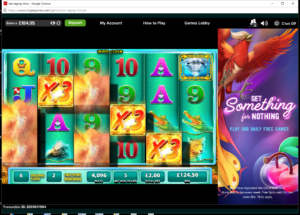 During free spins, the Wild symbols will turn into either x2 or x3 symbols and these multipliers are multiplied together! So in this real winning screenshot example – the win is x3 x3 x3 = 27 x times the win of 5 rhinos – which also are then 2 x 2 = 4 times). Wild symbols can appear on any of the 4 middle reels during free spins!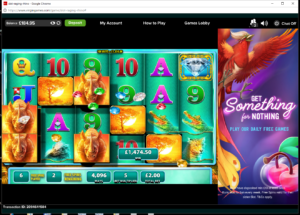 I had to screen shot this a few times during the animations so you can really see how amazing it is!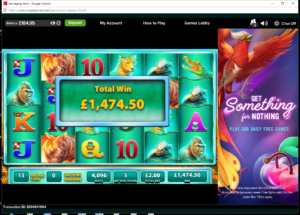 So, in total my free spins bonus on a £2 bet came out at £1,474.50 — a massive 737 x my bet amount!  I consider anything 100x my bet a very nice win – so of course – this was most decent!
This was achieved at Virgin Games Casino where you can take advantage of a deposit bonus and also you can play their Free Daily Game (you only need to deposit at least 10 once to be able to play every day and at the end of the month to play the game for guaranteed free spins and cash prizes)!
I've actually been fortunate enough to win good on this a few times — although often I get 0's … but hey for free – always worth a go 😉  I will dig out my screenshots for that soon and post them separately later 🙂
At Virgin Games you will also earn VPoints and convert them either to cash (OR — as my preference is) – to earn Virgin Atlantic Miles (this is a much better deal than taking the cash! and they soon build up!)
You can also play this at any other casino with games from Williams Interactive including Video Slots Casino too.
Video Slots Casino