Here I am to tell you about a recent experience on the game Beehive Bedlam (produced by OpenBet software).
I always love trying new games and Video Slots Casino is a great place to do this for several reasons. See the link above for full details.
It's one of these more "casual" style of games – it's not a slot game but its as random as slots and as such requires a lot of luck.
This game works in a similar way to other games where similar adjacent symbols create wins and then disappear to make space for more random symbols which then may in turn create more wins — this continues until there are no new wins during one play.
You need 5 or more adjacent matching symbols to create a win (these can be adjacent in any direction), and the more matching adjacent symbols together – the higher the win.
There is also a FREE FALLS feature! (like Free Spins) Always nice to have this in any game I think!  This one is triggered with just 3 or more adjacent Free Falls symbols (they must be adjacent – not just scattered!). 3 Free Falls symbols next to each other will bring you 8 free spins but more adjacent free falls symbols will bring more free falls – AND THEY CAN RE-TRIGGER!
On top of all of this, whilst you play when you get a 5 or more adjacent Beekeeper symbols – a honey jar fills up.  This honey jar builds up for a big potential bonus once full.  This is where the skill part of the game comes into play  – you need to keep clicking the mouse button to help the bee jump, collect coins and avoid obstacles.  It seems the more you collect without bumping into obstacles the higher your win.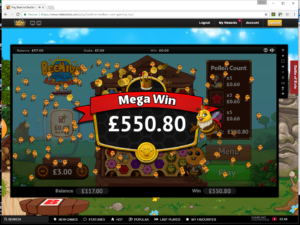 My screenshot here shows what I achieved on an average bet of £3 per spin (the honey jar bonus is based on your average bet) and I collected all but maybe 4 or 5 of the coins and I think I may have bumped into 1 obstacle. Don't worry if you do bump into something – just keep on going!
Here are some more screenshots that explain a bit more about the game:-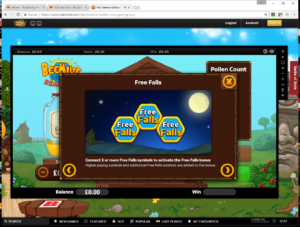 This game has a free spins feature (this can be re-triggered) and also includes at the end a possible JACKPOT bonus!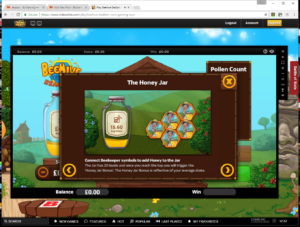 Fill up the honey pot and get your mouse ready to click to fly your honey bee into the coins and avoid the obstacles to increase your bonus!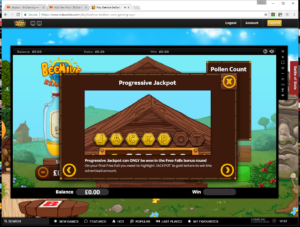 At the end of your free spins – see if you fill up the Jackpot symbols and look up to see how much you could win by hitting it!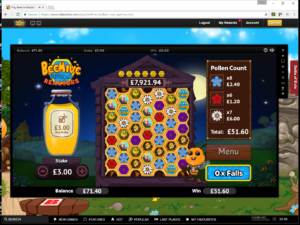 The above is a winning screen shot from getting free spins (free falls)
The above screenie shows Free Falls being triggered!
There are lots of different levels, with increasingly higher bonus prizes available.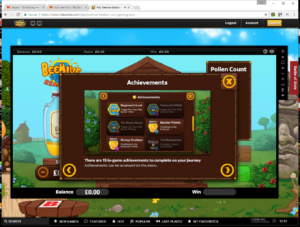 You will also collect various achievements along the way – try to collect them all!
Play this and many more other games from many software providers – probably the biggest list of games from so many providers at Video Slots Casino.
You can read more about Video Slots Casino (offering no deposit free spins when you sign-up) and a neat deposit bonus.
Note: At the time of writing, this game does NOT contribute to the Monthly Casino Race where each bet (generally only slots) gets you extra points each time you spin a certain amount (please check for the latest amounts).
Often Video Slots release limited time Vouchers to try out new games – these usually have no play-through requirements.  Any bonuses and rewards given by Video Slots also have very clear indicators whilst you play to see how you are doing / how much play-through you have remaining / remainder of any rewards etc etc.
I will certainly be playing this game a lot more and trying to complete all the levels – I got up to level 4 so far!
If you like this game but would prefer to play something where you earn points whilst playing – I believe the Play n Go game Gemix does earn race points as you play 😉
Good luck!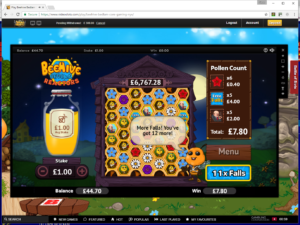 See Find Video Slots Casino Free Spins Vouchers here.